The following things leave me in a near-constant state of paranoia:
1. Fearing that my LBJ button will fall off my backpack & I'll lose it forever.
Sometimes I check 3+ times a day to make sure it's still there.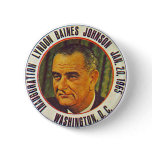 2. Fearing that my fly is down.
Sometimes I check 8+ times a day.
3. Fear of being pickpocketed.