If you know me, you probably know that
I LOVE AMERICA.
I'm that girl who thinks that
Columbus Day
Veterans' Day
Memorial Day
and
Presidents' Day
are the best kind of holidays.
I can't find it in my heart to love Independence Day as much as the other American holidays.
It's too commercialized.
I think July 4th should involve dramatic recitations of the Declaration of Independence.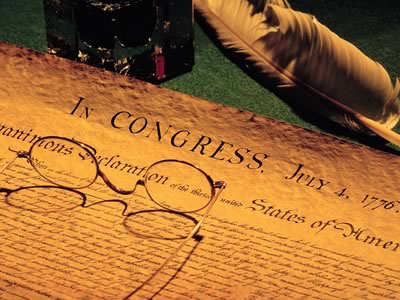 But obviously, that's just me.
I wanted to write a 4th of July post about why I love America,
but I was too busy having a wonderful weekend with wonderful people.
So, here it is. Late.
Though I'm completely nonpartisan in my political preferences,
That speech expresses a lot of why I love America.
"It was a creed written into the founding documents that declared the destiny of a nation: Yes, we can."
"The Nation Makers," Howard Pyle
I love America because a bunch of ragtag colonists took up their guns and said,
"We want to be free."
"It was whispered by slaves and abolitionists as they blazed a trail towards freedom through the darkest of nights: Yes, we can."
I don't love America because it's perfect.
I love it because, even when it allowed its own people to be bought and sold,
those people rose up and said,
"We want to be free."
"It was sung by immigrants as they struck out from distant shores and pioneers who pushed westward against an unforgiving wilderness: Yes, we can."
I love America when I think of crowded tenements and the smoky cities of the Industrial Revolution. When I think of bits of languages mingling on street corners.
When I think of looking out over a great prairie vista with dreams big enough to fill the endless blue sky.
And in that one song lie the dreams of a nation.
A young nation, whose history books are short.
In that one song lie the dreams of countless men and women,
who believe that life can be more than it now is.
Who believe that no struggle is too great.
"It was the call of workers who organized, women who reached for the ballot, a president who chose the moon as our new frontier, and a king who took us to the mountaintop and pointed the way to the promised land."


I love America because we do things not because they are easy,
but because they are hard.
Because even though we have always faced the difficulties of today and tomorrow,
we still have a dream.
A dream that says,
"We want to be free."